I noticed this week that some links to tutorials I had written a long time ago had gone dead, either because the websites they were hosted at went down, or because the websites they were hosted at transitioned to a new content management system or wiki. I fixed these links where I could, and re-wrote them and incorporated them into my website where I couldn't. See my POV-Ray, Lego, GearHead and Geometry pages.
Today I also started working on a new panoramic scene for GearHead (now abandoned by its creator, judging by the game's website) based on my previous Spinner Colony scene. Since I bought a new computer I am able to render them much faster in POV-Ray. Here's a sneak peek:
[update]
Here are my latest two renders. I tried to render at a higher quality level, including atmospheric media and a nice area light, but it was simply taking too long. The source code can be found on my GearHead page.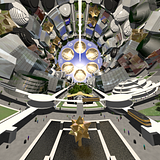 (Click for larger views.)